New Zealand Apprenticeship in Distribution - Meat Processing
Level 3 and Level 4
Overview
Level of study
Level 3 and Level 4
Prerequisites
Learners must be employed in the sector and must engage in training via their employer.
Summary
Recommended for experienced and skilled warehousing operators. Graduates will have specialised knowledge and skills required to safely monitor and maintain operations in a warehousing and distribution environment. Graduates will gain competence in operation and management of a warehouse, inventory controls, receiving and dispatching goods, and communication methods to improve productivity.
Download the training plan here [PDF, 196 KB].
Learning outcomes
By the end of this programme, graduates will be able to monitor and maintain:
health, safety and security practices to ensure own safety and minimise potential hazards for any customers and co-workers in a distribution environment
interactions with staff, managers, and customers
the application of standard operating policies and procedures to work roles applicable to a distribution environment
the receipt and dispatch of goods in a distribution environment
the store operations and productivity systems in a distribution environment.
Check out others who have done training with us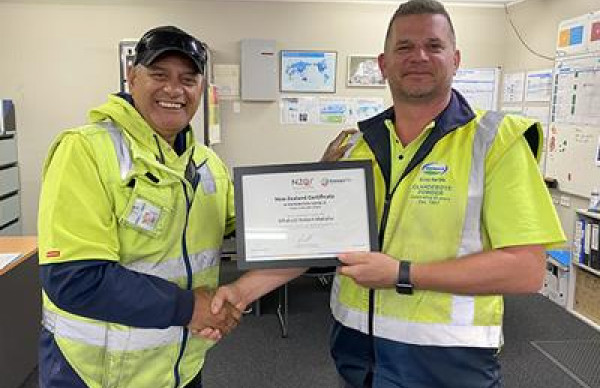 ​The smile said it all recently, when Fonterra's George Matiaha was presented with a NZ Certificate representing his first formal qualification.